Welcome

Welcome to our website. Here you will find information about our two standard poodles Enzo and Balou. We are members of the German poodle club (VDH/FCI) and the IRJGV. We live in a rural area close to the aartalsee.

Enzo
Enzo is a black male standard poodle, born in March 2007.

He´s a very active, lovely, intelligent and faithful poodle.

Enzo can many dog-tricks:

Here is his Repertoire:
-Hand-Kiss
– wave
– ashamed
– Hello (with right and left paw)
– Give me five
– Peng (dead dog)
– parry (standing with both paws)
– Touch
– crawl
– bow
– Light on
– dispel the washing machine
– retrieve objects into your shot
– close the door
– take off the socks
(look at the German Enzo site/Trickkiste; there are some videos).
We trained Enzo to act as a service dog to increase the quality of life in nursing homes.
He was an important participant at an scientific study about Quality of Life in nursing home and the meaning of animal-assisted-services. He did his job very enthusiasm and very good.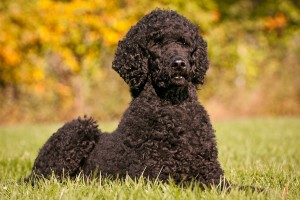 We also trained him not to do hunting, so we can take him on our horse riding trips.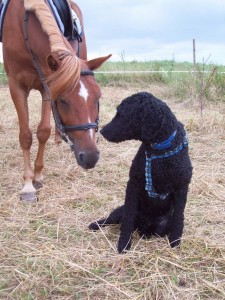 Since 2011 we´re going to dog-longe. Our target is to train binding, endurance and stamina.
Now Enzo can be longed over three or four circles.
(Foto: Fabienne Auer; www.birdypresents.de)
He´s a really exceptional  dog with a special character and we´re happy to have him here with us.
Balou
Balou was born on 27th of October 2003. He died on 20th of May 2016.

In the first years of his life, Balou lived at his breeder. He came to our family when he was 4 years old. At that time we had two standard poodles, Enzo and Cooper.
Balou is very cuddly and quiet. He´s a lovely dog, who does anything for a little bit of food.


2009 Balou participated a night-training at IRJGV. The training confirmed his balanced character.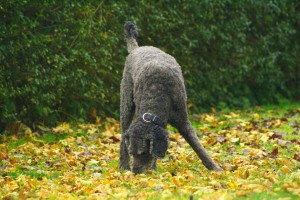 He often plays with Enzo in our garden. After he has played with Enzo, Balou likes lying in the sun.
stud-dog
Enzo from Bottenberger Wald

* 15.03.2007
Standard Poodle Black
HD A1
Elbow Dysplasia clear
Pat. Lux. free
PRA, cataract clear
vWD clear
He hasn't got any allergies.
Regular blood tests are perfect
59 x 60 cm (23.23 x 23.62 inches)
Good coat und strong pigmentation
Dame: Angi from Bottenberger Wald
Sir: Barbone Gigante Vincenzo